Whitehot Magazine, October 2009
Nora Chipaumire with Thomas Mapfumo and The Blacks Unlimited @ MCA Chicago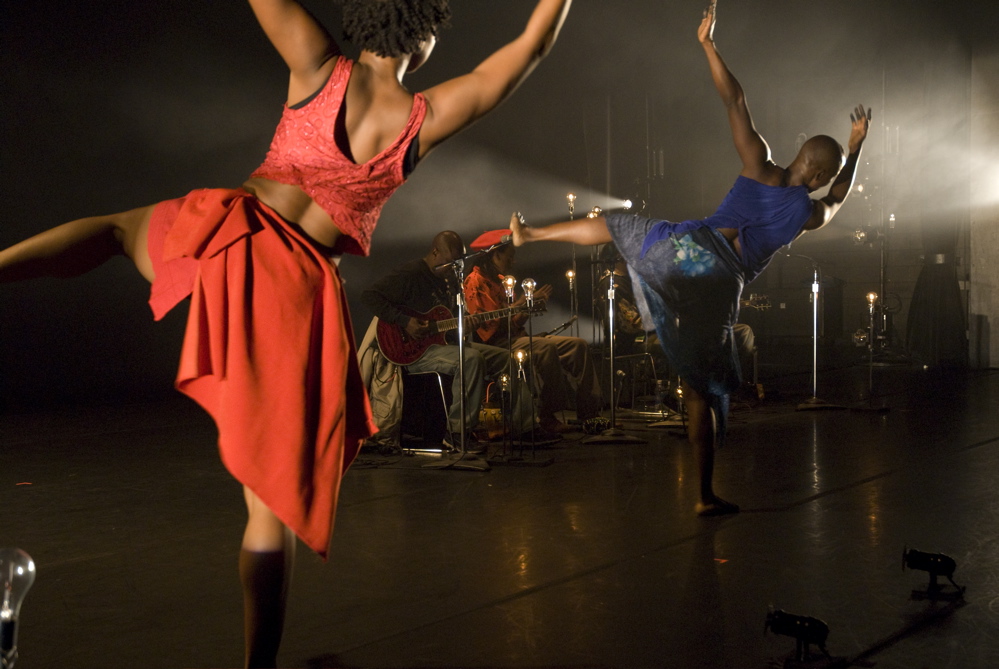 "Welcome to Zimbabwe."
Where the rains fall in computer-generated light projections? Where Wolfgang Puck desserts are sold in the hallways? Where Chimurenga music plays, and the only dancing is choreographed?
No, this statement stakes a claim. Nora Chipaumire, her legs rooted downstage, upper limbs slapping, unfurling, proclaims through her teeth today's interest rate: one million percent. Then, she issues a dare. "Life is good!" Desperation, conviction, and joy fight silenty in her posture. Her vocal outbursts claim the prerogative of perspective. This is a catharsis, not a travelogue.
Behind her, the legendary Zimbabwean band, Thomas Mapfumo and the Blacks Unlimited, sit among their tiny amplifiers and pluck at their instruments. Around them glow unfrosted lightbulbs, the naked filaments dancing and sputtering. The band could be sitting on their suitcases, near an airport tarmac or playing impromptu at some kind of depot. The towering, flat brick backdrop of the MCA Stage is any brick wall, and it renders to the musicians a human scale. They wind their lattice melodies out through the space and retract them with expert dynamic control.
The dancers, Chipaumire and her partner, Mallory Starling, appear and immediately begin taunting with their cleverly designed torn jackets and dyed dresses. Flip up some cloth and hide my face. Flip up some cloth and show you my ass. They are teasing dance traditions and identity art from within, but not in the winking, self-aware way – there is too much ground here. Starling and Chipaumire show off strength and poise, but their movements, choreographed by Chipaumire, express a freedom that is belied by rare and rewarding moments of unision. In one piece, Chipaumire spends almost the entire song framed in a block of white light against the brick, gazing down, while Starling contorts plaintively in the foreground. This is high identity, saying at once: let me expose for you the brutality of my cliche, and by the way, isn't life good?
Unlike so much political art, there is no manufactured, small-batch emotion. These are real revolutionaires; Mapfumo was the musical voice of the revolt that birthed Zimbabwe in 1979, and also the musical voice who exposed the corruption of his once-hero Robert Mugabe, leading to the singer's self-exile. Mapfumo, The Blacks Unlimited, and Chipaumire all seem caught in the same expatriot glare.
Chipaumire steps forward out of her own silhouette and lifts her companion from the ground. Digital rain falls against the brick. She tries to elevate Starling but cannot. They perform a limping, grasping waltz, while Mapfumo and The Blacks Unlimited unravel melancholy protest rhythms. Everyone is leaning on everyone else, dancers and musicians alike.
The performance, a world premiere collaboration, features a melodramatic profusion of fog machine and some digital projections that, while proficient and occasionally engrossing, dangle off the edge of the rock concert ethos. This is a modern dance and musical performance, but it is definitely not a rock concert, not with Chipaumire's energy dominating the intimate space. Still, the technology that hums through every aspect of the performance is fitting, thematically: Mapfumo was the first to render traditional Shona music in electric instruments such as the Les Paul guitar that sits in his lap all evening.
For the polyrhythmic complexity of their music, Mapfumo and company are overwhelmingly still, physically, almost hunched. They give off not the proud air and studied quietude of classical musicians, but the bared conspiracy of an opened plant bud. They are sitting in a straight line but playing in a circle. The dancers contort at their flanks. Chipaumire has one leg planted, the other extended at a perfect angle. Her torso winds and dips. The music turns through its self-iterative loops. She turns to stomp at the ground, an exultant smile on her face. Gems of sweat drop from her head, through the light, and splash the stage.
In fairness, it must be asked, is this just another well-performed curiosity, exoticism playing with modern lenses? But then it must also be asked, in fairness to whom? The genuine has a lovely habit of adopting any mantle it chooses. In their first collaboration, Mapfumo, The Blacks Unlimited, and Chipaumire have established the vanguard as their baseline. In bringing their art to the world, they face off in a common future, for better or worse.
Published in Whitehot Magazine